Patchy hair loss on 8 month old German Shepherds thigh.
by greg
(fort campbell,kentucky)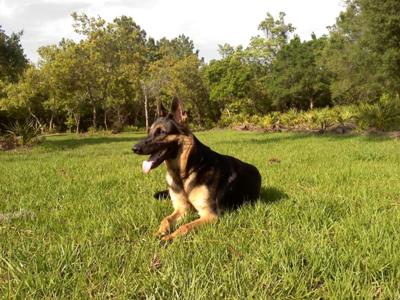 I have a 8 month old female German Shepherd. She has a beautiful coat and as she is starting to get the white fur around her back legs (saddlebags?).


I just noticed today that she has 2 patches of no hair and around that area its also very thin brittle hair. She has no fleas and i never see her chew or scratch on that area ever before.
I pet it and was brushing her an it seems to not bother her at all. One of the patches you can see a little red blotch but besides that its her regular skin color.
I have not changed food, snacks, anything. It is 100+ heat outside too. Is she just loosing her puppy coat. so should I be worried?
Total German Shepherd
:
Sounds a little like it could be a hot spot but traditionally those are itchy and will make your dog scratch to some degree.
If I were you I would take several good pictures of it to show your vet or a groomer to ask if they recognize what they are - or better yet, I wold just go ahead and schedule a vet appointment to find out exactly what is going on with your puppy and the reason for the coat loss.
Better safe than sorry, right? And if you catch it early enough you can probably keep her from losing even more coat. At least that way if it happens again in the future you will know exactly what causes it and what to do. Good luck!