Peanut butter dog biscuits
Are you looking for peanut butter dog biscuits recipes? If so, then you're in the right place. More and more dog owners are making foods, treats, cookies and the like for their own dogs now. There are many reasons for this sudden shift in popularity however I think a lot of it stems from the whole pet food recall that happened several months back.
There are a lot of benefits of making your German shepherds own peanut butter dog biscuits as well as other foods - you can control the ingredients, you know exactly what is going in the foods you make and it can be a lot of fun.
The only disadvantages I can think of right off hand would be in time management of actually having to make the cookies or maybe even in costs in the beginning.
But, as promised, here are several peanut butter dog biscuits recipes for you to enjoy with your own German Shepherd. I hope you enjoy them.
---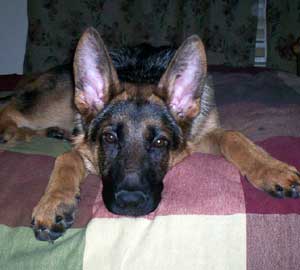 Peanut Butter Cookies

2 cups whole wheat flour
1 cup wheat germ
1 cup peanut butter
1 egg
1/4 cup vegetable oil
1/2 cup water
1/2 teaspoon salt

Preheat oven to 350 degrees F.

Combine flour wheat germ and salt in large bowl then mix in peanut butter, egg oil and water. Roll dough out onto a lightly floured surface till about 1/2 inch thick, then cut out the biscuits using a cookie cutter -- (or make squares). Put the biscuits onto an ungreased baking sheet. Bake 15 mins for the smaller sized cookies and up to 35 mins. for larger shaped ones.

Store in the fridge .


Peanut Butter Dog Biscuits

2 1/2 Cups Whole Wheat Flour
1/2 Cup Powdered Milk -- non-fat
1 1/2 Teaspoons Sugar
1 Teaspoon Salt
1 Whole Egg
8 Ounces Peanut Butter -- (1 jar)
1 Tablespoon Garlic Powder
1/2 Cup Cold Water

Mix above ingredients together, adding water after other ingredients are mixed. Knead for 3 to 5 minutes. Dough should form a ball. Roll to 1/2 inch thick and cut into doggie bone shapes. Bake on a lightly greased cookie sheet for 30 minutes at 350 degrees.
Peanut Butter & Oats Glazed Goodies

1 cup water
1 cup quick cooking oats
1/4 cup butter -- half stick
1/2 cup cornmeal
1 tablespoon sugar
1 teaspoon salt
1/2 cup milk
1/3 cup peanut butter
3 cups whole wheat flour

Boil water in a saucepan. Add oats and butter. Let oats soak for ten minutes. Stir in the cornmeal, sugar, salt, milk, peanut butter, and egg. Mix thoroughly. Add the flour, one cup at a time (you may not need the entire amount) until a stiff dough forms.

Knead dough on floured surface until smooth, about 3 minutes. Roll to 1/2" thickness. Place on a greased cookie sheet.

Glaze:

1 large egg
2 tbsp. milk

Mix well. Brush glaze on dough with a pastry brush. Bake in a pre-heated 325 degree oven for 35-45 minutes or until golden brown.
Cool completely.

Pooch Peanut Butter Swirls

Dough #1

4 cups whole wheat flour
1/2 cup cornmeal
1 1/3 cups water
1/3 cup peanut butter
1 egg

Dough #2

4 cups whole wheat flour
2/3 cup cornmeal
1/2 cup banana -- mashed
1 egg
1 1/4 cups water
2 tablespoons vegetable oil
2 tablespoons molasses
2 tablespoons cinnamon

Combine all #1 ingredients and mix thoroughly. Knead on a lightly floured surface. Set aside.

Combine all #2 ingredients and mix thoroughly. Knead on a lightly floured surface.

Roll each dough separately to a 1/8 inch thickness, into rectangles. Lightly brush a little water over the top of the light dough. Place the dark dough on top, then roll up like a jelly roll. Wrap the roll in plastic and chill in the freezer for one hour. Cut the roll into 1/4 inch slices. Place them on a cookie sheet sprayed with non-stick spray. Bake at 350 degrees for one hour.


BJ'S Peanutty Pupcicles

1 ripe banana
1/2 cup peanut butter
1/4 cup wheat germ
1/4 cup chopped peanuts

Mash banana's and peanut butter, stir in wheat germ. Chill 1 hour. Place in container, store in refrigerator or freezer.




Return from Peanut butter dog biscuits to puppy biting


"A pekingeese is not a pet dog; he is an undersized lion." - A A Milne
Sign up for promotions, news, discounts, and the chance to win prizes for you and your German Shepherd