Pepper the German Shepherd
by Brooke Sajdak
(MN)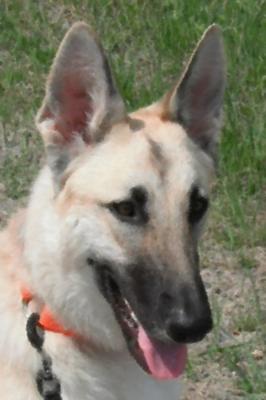 Being a person who has always had successful dog relationships...especially as long as I have had children involved, I researched very seriously about what dog was perfect for my family. After our Lab/Newfie mix passed, all roads led to a German Shepherd.


The great debate of American or German lines began. I had breeders that told me that an American line is skittish and unreliable, I had American lines that told me that the German lines were too work driven and over-protective. It was such a dilemma, who to believe.
So I decided I refused to believe one or the other, and would study each individual picture and look for that look in their eyes, the look of my previous dogs, loyal and loving.
Fast forward some months I happened on puppies for sale, beautiful American line German Shepherds, all colors and hair lengths, intently studying their eyes, for that look.
There was Pepper (Paris at the time)...beautiful silver coat and this look that had me dreaming about her. Dead set on her, emails exchanged, she was available and the money went down instantly.
My girls and I visited her once as a young pup, she was too interested in playing with her littermates to spend too much time with us, I weighed heavy on whether she would make the dog of my dreams, considering her sister was more than content to let my 8 year old pet her continuously.
I thought deeply and went with my gut...she was the one. Now fast-forward a year and a half, this "pet quality" German Shepherd...sable in color, has surpassed everything I had imagined when I looked at her 4 week pic, some time ago. Pepper is an amazing dog, smarter than I ever gave her credit for.
I think there is a perfect dog for everyone, American or German lines...and she is sooo perfect for us. I am a stay at home mom that
waitresses on the weekends.
She is by my side all week and is sooo doting on the children. We have kept in very close contact with our breeder and it seems all of the litter has turned out a social dog that is respectful of all they come in contact with.
Pepper is soo in tune with kids, she will lay next to any sleeping child in our home "guarding" them until they awake...even if it means she is away from me. She is absolutely the most intelligent dog I have ever owned and is respectful to all our company, but especially children.
I got a huge lecture from my father in law when I brought her home, that German Shepherds are not a good dog with children, but he is soo wrong. She is gentle with all creatures, loves cats, loves bunnies, and is even gentle with toads...might chase up a red squirrel, but never attempts to harm them.
What an amazing dog. We have been in Dog School since she was 6 months, and that has helped, but now, walking down our dirt road, with only her tab, she will heel off lead for miles.
I recommend any family, who will exercise their dog daily, a German Shepherd Dog, loyal, intellegent, obedient...as my Pepper is. If you are looking for a member of your family, to love you unconditionally, and be a part (she is my fourth daughter)...than this can be the breed for you.
Whatever dog a person chooses, give it the effort and patience, treat them like a baby...your baby, with strict rules and plenty of interaction, some schooling, and you will have what I have, my best friend...Pepper the German Shepherd.
I have never loved and had as much faith in any creature, like I have in her, we were meant for each other, and as long as God will let her roam this earth, she will be mine.