Poor health in my 2 &1/2 year old GSD
by Wanda Przyczyna
(Port Coquitlam, BC, Canada)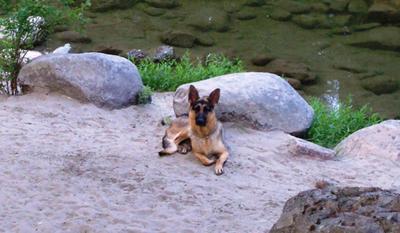 Doing what he likes the most-camping & swimming
Since the beginning (8 weeks old) he was a picky eater. I tried every diet & ended up cooking for him in order for him to eat.
It turns out he has a cancer.
His poop was never solid, so I thought this is normal until he's got a diarrhea with blood in it.
He never showed any signs of being sick, always ready to run and play, until he's almost collapsed.
His Blood test results show too much white cells, cancerous cells, all sorts of very bad staff.
The only symptom I've noticed was him loosing lot's of fur, but i thought it's due to the stress, since i had to leave him behind when vacationing in Australia.
Now, please all the GSD owners, who love your dogs as much as I do, watch your dogs carefully for smallest unusual things.
Don't wait too long. Check it all out with your vets. Don't be shy to ask questions, they are not silly ones if it comes to your dog's health.
It's better to panic sometimes than being too late, as I am now.
Thanks for reading & good luck with your GSD!
Wanda