Question about "our furry guest", my son's German Shepherd
by Michael
(Iowa, US)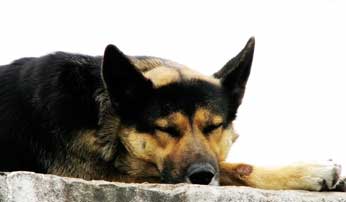 I live in southeastern Iowa. We are keeping our son's German Shephard for a prolonged period of time. They moved from Wisconsin to Branson, Missouri last year.


They left the dog here until they got a house. They ended up buying a condo that will not allow a dog over 30 pounds. Maverick weighs over 90 pounds. He saw them off and on during the summer.
I noticed that after them leaving him many times, he did not have near the anxiety as he had had. He did not see them from sometime in August until Thanksgiving as they got permission for us to bring him down for a visit so they could see him.
When we packed the truck, he whined and thought he was going to stay and not come back with us (they could not keep him). They came up for Christmas and were here on Monday and then Thursday for about 5 1/2 hours both days. Both times when they left, he whined terrible and we felt so sorry for him.
I have no idea when he will get to see them again. They can't sell the condo until it is paid off and it was over-financed when they bought it (they knew this). My personal guess is that they will not get him back until maybe the summer of 2011.
Will Maverick readjust to them at all? He has bonded deeply with my wife and goes wild when she gets up and when she comes home from work. He loves her deeply. He likes me a lot and I take him for 2-3 walks a day.
He usually gets 1 mile and two 1/2 mile walks, but this week he got four 2 miles walks and the 1/2 mile walks also. He even got a 2 mile, 1 mile, and 1 mile walk today. I notice on the 2nd and 3rd walks his ears are back and he seems intent on getting back home.
Is he thinking our son might be there waiting to take him? I am beginning to think he might not want to go back to them or maybe be very confused when they do come for him.