Raising 2 female gsd from 2 different litters
by
( )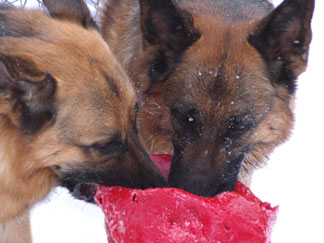 My wife and I can not agree on a female GSD. I like the black and grey, and she the black and red.
Can we get both dogs. They are 2 weeks apart in age, both about 8 weeks old.
We've had a GSD before, but never 2. What do you think?
Total German Shepherd
:
I think that this would be no problem at all as far as age in concerned. Sometimes issues may arise as the dogs mature if they are both boys or a boy and a girl if you don't have them "fixed" so just be aware of that.
But as far as having 2 to raise together you will have twice the fun, and twice the responsibility. I've had 2 or more German Shepherds in the house with me for most of my adult life now and have loved it so good luck with your new companions - and send in some pictures when you get the chance.