Raw meat saved my German Shepherd, HOSS
by vivian Baker
(brevands France)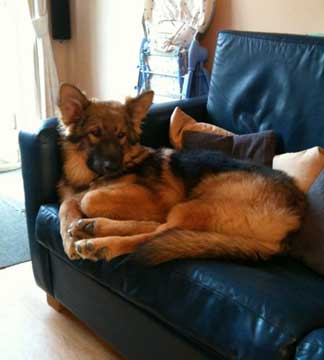 MY German Shephard is called HOSS, Head Of Site Security and his bark and concentration to the front gate gives him his name.


We live in France which makes no difference to this story but does in the terms of the way the vet reacted to our problem. Two years ago I saw that HOSS was limping and when I checked his paws I saw blisters and redness.
We put it down to the fact that he loves jumping in nettle beds and they cleared up as quickly as they came. six months ago he started to loose the fur on his back and had nasty infected areas and he was not at all well.
I took him to the vet, who incedently had agreed with us about the nettle theory at his last passport visit. The vet gave him anti biotics and he made a little recovery but soon went back to infectious allesions on his back.
We went back and the vet took a scrapping from the area and tested it. She was quite shocked at the findings and said that he was a very sick dog and that we would need to have blood tests and a biopsie to know what this was although she suspected mange.
I was keen to try to sort this out without too much intervention and as I have a good understanding of how HOSS works I felt that he was not in danger and took the treatment and a stong version of frontline and asked the vet to give me two months before we started expensive and perhaps hopeless action.
HOSS and I worked at his problem and although he got a little better he was loosing weight and looking quite feable for a four year old, in his prime. I searched the web for reasons and solutions as I had no faith in the vet and I came a cross an article about dog immune systems failing because they do not eat enough raw meat.
Tinned and dried foods are not natural and a dog in crisis of failing ammune system will never recover if there is no radicle action taken. HOSS and I had nothing to loose he was thin and balding,tired and fed up so I changed his diet the next day to raw fatty meat from our supermarket butchers and within two months he is almost fully recovered.
He has put on weight his back is healed and the fur is back to it's original thickness and he is now on the verge of having clear paws and is able to run on the gravel drive where before he looked like he was tip toeing over hot coals. I needed to share this remarkable event with somebody and encourage any dog owner who thinks his dog is unwell to go raw and see what it gives. thank you