Reagan Roo, My Newest German Shepherd Puppy
by Jaide pratt
(twin falls, id, US )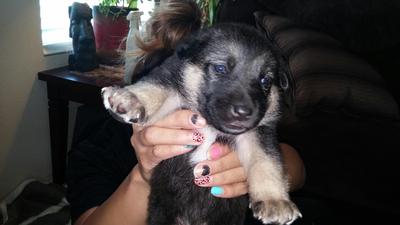 Just look at that sweet face
Reagan is my second purebred gsd to ever own. She is now 6 weeks old and is The biggest out of her litter mates, the only one with a glob of white on her chest, and by far the sweetest.


The first time i held reagan, her eyes werent even open yet. i turned her on her back, she only wiggled a couple of times but settled down and fell back to sleep. It was then i knew regan would find a forever home in my house hold not as a pet but as a family member.
Since GSD's are famous for being one color at birth and another at adulthood, i wonder what color Reagan will blossom into. Any ideas???