Rest in Peace, Stela, My Girl!!
by Mark
(Buckeye, AZ)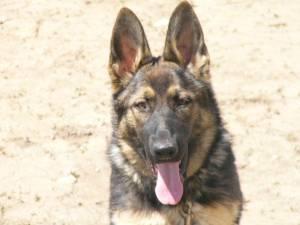 Stela, My German Shepherd
Stela passed March 10, 2013


She died from spleen rupture
that I didn't it come.
I let her out before bed
got up 5 hrs later and she look
rush her to 24 emergency Vet
15 min later she stop breathing.
She was a great dog was a protector
till the end.
I missed you Stela
I love You
Total German Shepherd
:
Hey Mark,
First of all, let me say how sorry I am hearing about Stela's passing. I am terribly sorry for your loss. She was indeed a beautiful German Shepherd Dog.
It is a hard thing, and I don't think anyone is ever truly prepared for such an event, but I imagine that she felt the same way for you, as you did for her. I hope that, in time, you can learn to smile when you think of her instead of crying.
Please give yourself time to grieve. She was an important member of your family and an important part of your life and that's exactly why you feel sad. In time, the memories you have of her will replace the grief and you will be able to share your memories of her with others.
But for now, feel comfort in the fact that you were able to have her in your life and that she loved you.