Rex and Lily, My Senior German Shepherd Rescues
by Heidi Geier
(Tacoma, WA USA)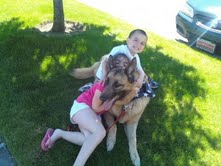 I was fortunate enough to stumble upon a wonderful GSD rescue site in WA state.


From them I have adopted two elderly GSDs.
Lily is 8yrs and Rex is 11yrs. They are fantastic dogs. Words cannot describe how sweet, gentle, protective and attentive they are.
I wish everyone the opportunity to surround themselves with or at the very least experience a GSD's love and companionship.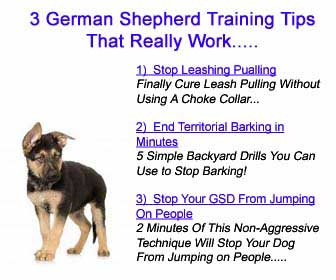 Total German Shepherd
:
Hi Heidi. What a wonderful story you have just told us. Thanks so much for taking the time to come here and share your own German Shepherd Dog rescue story and picture of your beautiful German Shepherd Dogs Lily and Rex with us all here.
And what a great picture of them too that you have sent. They seem so comfortable with the kids - that is just perfect. Beautiful story. And good for you giving these senior German Shepherds a wonderful and stable home in their later years.
I wish more people would and could do this as well. It would really end a lot of misery for a lot of dogs that didn't deserve to be in the situation that they were in through no means of their own.
Oh yeah readers - thanks so much for checking this story out and please come back often to see what else is going on in our growing German Shepherd community. Let us know what you think about the above story by leaving some comments below.