RIP My Baby Boy, Orr
by Jenn Potvin
(Lynn, MA)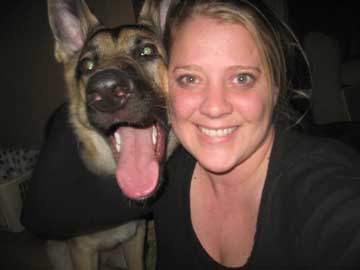 RIP my baby boy 5-15-2010 ~ 7-28-2011
Orr passed away at the vet while going to get neutered. Before he was even put under he had a massive heart attack. They are not sure what caused it but it's such a tragic loss.
I can't even believe this happened. I'm so hurt so angry such at a loss of words. My heart aches and I don't know what to do. I wish I never took him..... :((
If tears could build a stairway, And memories were a lane, I would walk right up to Heaven to bring you home again. No farewell's were spoken, No time for goodbye, You were gone before I knew it, And only God knows why.
My heart still aches in sadness, And secret tears will flow, What is meant to me to lose you, No one will ever know.
Total German Shepherd
:
Dear Jenn,
I am so, so sorry for your loss. What a terrible thing to have happen. But it could have just as easily have happened as he sat at your feet, as you slept or while you fed him a treat. But either way, when a beloved companion passes so swiftly, it will make you question yourself, I know.
But please don't blame yourself because there is no way you could have ever expected or known what was going to happen. And as it turns out, maybe it was the best thing that this did happen while he was at the vets office - at least now you know what happened to him - just not why.
And maybe this fact alone might just save you some doubt, questions and just give you a better understanding of why Orr went as he did. It probably won't make things any easier now, but maybe in the future it will give you a little more peace of mind.
At any rate, it is never easy to lose a beloved pet and I am so terribly sorry for your loss but I do thank you for taking the time to share him with us all here. And as I sit here all teared up typing I hope you feel better soon and that your grief soon turns into joyous memories as you remember all the good times you had with your baby boy - your gorgeous German Shepherd, Orr.