RIP 'Our Little Gretchen'
by Mal
(Illinois, USA)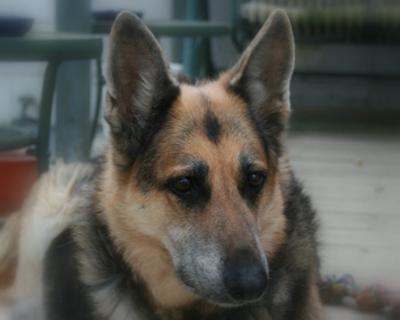 RIP Gretchen (6/26/99 to 11/2/09)
Unfortunately we lost our 10½ year old German Shepherd dog, AKA name, Our Little Gretchen, just plain old Gretcheh or Gretch to us, yesterday.
A very, very sad day when you lose such a loyal and loving animal that is more a part of the family than just a pet.
Once in a lifetime you get 'The Perfect Dog', Gretchen was definately 'it' to us from day one until the very end.
A gentle giant. Not once did I ever see her get aggressive or snap or bite even when I caught my three year old grand-daughter leading her around the house holding onto her tongue.
Total German Shepherd
:
Mal, first of all let me take the time to tell you how sorry I am for your loss. It is so very hard to lose a wonderful pet German Shepherd. But your memories of Gretchen will help you through your long grieving process. Hold them close.