Sable German Shepherd Chloe
by Ken & Cheryl S.
(US)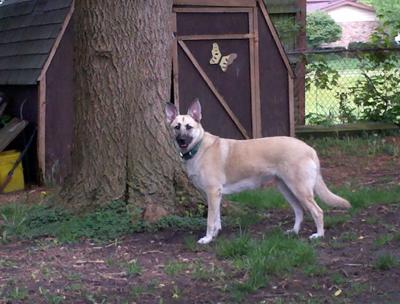 Chloe is 10 months old she is a sable color and loves playing outside with sticks and empty plastic bottles she also has some Kong toys .


She is Queen of the house and even sleeps with us we are slowly running out of room as she grows.
Ken &Cheryl
Total German Shepherd
:
Hey Ken &Cheryl,
Thank you so much for sharing that picture of your beautiful Sable German Shepherd, Chloe. She is gorgeous! Such a pretty girl.
And I'll bet she keeps you busy with all her endeavors too. 10 months old, huh! Yeah, I'll bet she is definitely keeping you busy.
And you have so much to look forward to as she matures. Enjoy this time because the puppy years go so fast.
And don't forget to take a lot of pictures too. With that sable coat of hers, I'll bet you that she looks completely different in about 2 years color wise since sables color tends to change so much. So that's an exciting thing to keep in mind, plus if you have lots of pictures you can see the progression over time later as you look over all the pics of that beautiful female German Shepherd of yours!
Much luck to you all and have fun with her too. She'll make a great companion to you all her life! And thanks again for sharing her with us all!