Sablegirl - Sable GSD DOB 14APR96 Rest in Peace 31OCT08
by Penny
(Mobile, Al)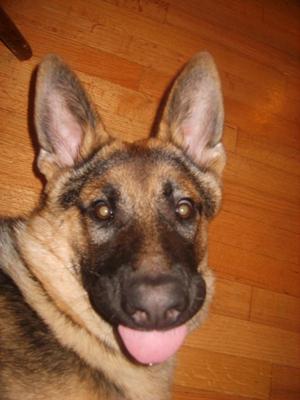 You were fearless, my sweet girl; never afraid of standing in the eye of a hurricane. Your head held high, it was a sight to watch your hair stand up.
When Nana died, it was you who got me out of bed each morning, blowing through that beautiful snout.
When I felt I couldn't make another day, you sat next to me, put your head in my lap, and listened as I cried.
Your beautiful light brown eyes would watch me, and tell me you were here to comfort me.
You were my life, my love, and my kindred spirit. I still mourn for you, sweet girl though I am glad your arthritis is gone and you can catch frisbees in the air.
Wait at the Bridge, my girl, I will come for you soon...
Total German Shepherd
:
Penny, Let me say right up front that I am so very sorry for your loss of your German Shepherd Dog, Sablegirl. Your memories will stick with you forever and help through your grieving process.