Same sex German Shepherds or different sex for pets?
by CRICKET
(Nj)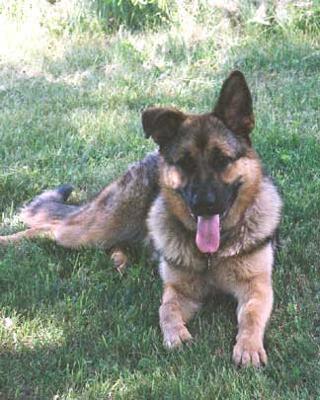 We are interested in getting german shepherds pups and we want to get two. Some say to get a female and male so that they get along.
Others say that if we get two males , they will fight. is this something that I need to be concerned with? thanks.
By the way, the dogs that I am interested in are from the same litter. I do not want to mate them at all, if we had a female, she would be spaded.
so that is not something that I am concerned about as far as siblings are concerned. thanks for your help
From Total German Shepherd:
If you do get litter mates, either male or female, or both of the same sex I would suggest either way to have them both de-sexed/fixed/spayed-neutered, whatever you want to call it. Males don't care if it is their sister that is in heat when the time comes around - so do yourself a favor and get both dogs "fixed".
Testosterone in a young male can make them hard to deal with as they develop and its safer to have a female spayed as well to make sure that she doesn't get pregnant - not to mention the fact that there are loads of health benefits in having both sexes "fixed" while they are young.
I have to admit that, personally, I have found it to be true, for me anyway, that 2 girls can get along so much better than 2 males. Just my experience.
I have 2 female litter mates, almost 10 years old now, and they have never been apart other than if one or the other was at the vet overnight for some reason. Just like any other brother or sister (human, canine or whatever), they do squabble from time to time but overall they get along quite well together.
If you treat your German Shepherds well, they'll do fine in the end - unless there is just an insurmountable difference in character between the 2 dogs.
Good luck with your new
German Shepherd puppies
.