Sammy my German Shepherd :)
by Eliza Callow
(Sydney)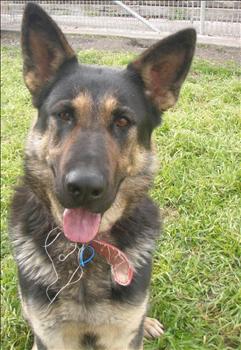 Her photo in the RSPCA
We recently got a beautiful stunning german shepherd from the RSPCA and she's like the puzzle fixed to our family :) But the only sad thing is that she has been abused in her past life and we can't even throw her a ball because she is so frightened of us hurting her when we would never hurt her she's only 2 and to think she is abused is very sad.
She came into the shelter very skinny and sad eyes and we were looking on the website for another dog as we already have another maltese cross silky dog who is 5 called Jinx :)
But we have had her for a few months now she has put on plenty of weight but not to much and her coat is amazing absolutely no dandruff because if you didn't know if you feed your dog Sardines they are so good for their coat but you have to continuously feed it to them once every twice a day until it starts to work, it is also a treat for them.
Sammy goes for a walk every day now and she will let us know because she goes soooo stupid hehe she's such a beautiful creature and we are so glad to have her ;)good
Total German Shepherd
:
Congratulations on your wonderful new German Shepherd Dog, Sammy. She is gorgeous! I wish you a lot of luck with your new baby.
Keep us up on how things are going in the future. And good luck again!