Sasha, My German Shepherd Friend, My Companion, My Protector
by Deborah Gerdes
(Harlingen Texas)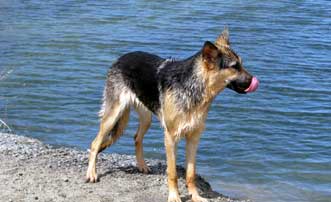 Sasha was skin and bones when I rescued her. I had no intention of getting another dog that day. In fact, I was walking my other GSD Sonny when we saw her.


She was frail, we could count her ribs, and she was tied with a chain so big I wondered how her neck didn't snap. When we stopped to ask about her, her young owner told us her story. She was starving, he couldn't afford to feed her, she had never been in the house before, she had no manners, she had been chained to a tree most of her life.
He was trying to find her a home, and if he couldn't, his plan was to simply shoot her that night. Needless to say, we put her in the car and took her home. The 1st three months Sasha was a nightmare LOL. She knew nothing about anything, and all she wanted to do was sleep and eat.
After that, I have never had a smarter, more loving dog, ever. She learned basic manners almost immediately. She shadowed me wherever I went.
When we had our son, she took over. He was loved, protected, cared for, and saved from danger many many times over. She was loving and gentle in nature, yet had a way of letting strangers know what would happen if their intentions were less than honorable.
We lived this way until Sasha was about 12 yrs old. One day, during her morning hugs and kisses, we felt lumps everywhere. All over her. I rushed her to the vet that Saturday morning, scared to death. Monday morning, we were told the cancer was fast and deadly, and that the kindest way to show our love was to let her go to sleep painlessly.
We said our goodbyes, and later that week, I brought her home for the final time. Sasha, you enriched our lives in ways you will never know, you taught us how to be unselfish, how to love beyond reason, and how to forgive all the little transgressions humans have a tendancy to hold onto.
Not a day goes by that we do not talk about you and miss you terribly. We love you, and maybe someday we will be ready to get anoher GSD, but know wherever you are you can never be replaced!
Jim, Deborah & CHarlie Gerdes