Shakira the Supermodel Soccer Star
by Heather
(North Carolina)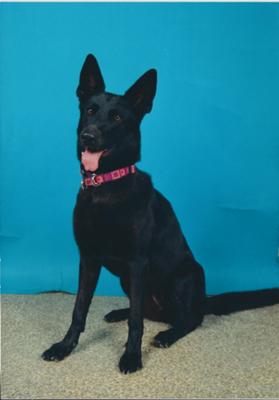 Shakira the Supermodel
I have a fabulous 4 1/2 year-old, all-black GSD, Shakira, who was born in Ashgabat, Turkmenistan, in Central Asia.


At the time I got her, I was living very close to Iran, and a neighbor who was concerned about my security gave her to me to be my eight week-old "guard puppy." But, while she has the fierce, "you'd better not mess with me or my person" warning bark typical of GSDs, I could hardly ask for a more loving or playful companion.
This is a picture of Shakira that we took in a "photosalon" in the capital of Turkmenistan when she was one year old. The owner of the photosalon, a gruff, Russian-speaking old man, initially was unwilling to take her photo because another dog once had been so scared of the loud explosion of the camera's flashbulb that the dog had run out the door of the shop and become lost.
But then the man saw Shakira, and it was love at first sight. "Is she a German Shepherd?" he asked, a glint in his eye. I could see that he was hooked and was just looking for an excuse to photograph her. When I said, "Yes!", his response was, "Well, that's another matter! They're smart dogs." As you can see, Shakira performed like a supermodel, notwithstanding the popping noises made by the photographer's 1950's-vintage flashgun.
But Shakira is far more than just another jet-setting beautiful face. Her all-time favorite activity is playing soccer and, with four years of experience under her belt, she is so incredible at it that she normally becomes the star attraction in any dog park where she is playing.
It began when she was four months old; I purchased a hard plastic ball after I found that no air-filled ball could survive her enthusiastic attention for more than two minutes (BTW, if you decide to purchase one of these balls for your dog, be careful; while the nearly indestructible ball lives up to its name, dogs that try to bite into it have been known to break teeth). Our games started with her running after the ball after I had kicked it.
Eventually, she learned to maneuver the ball at a full run with her nose and two front paws; she even has a "rabbit hop" that she uses to speed the ball along and a "balancing elephant" routine with which she turns the ball around. Since then, she has learned that rolling the ball up to total strangers is a great, non-threatening way of meeting them and making friends. Now, while the other dogs at the dog park run around in energetic abandon, from the depths of the small copse of woods where I accidentally last kicked her ball comes Shakira with a wistful look in her alert brown eyes, pushing her red ball ahead of her like a budding canine David Beckham, just looking for the right person to practice with...
If you live in North Carolina, you just might be lucky enough one day to meet Shakira the Supermodel Soccer Star. But be careful; it just takes one look to fall hopelessly in love with my sweet-looking, yet sassy "puppy girl."