Sharna (known as the Baby Girl or B.G.)
by Paula
(Staffordshire England)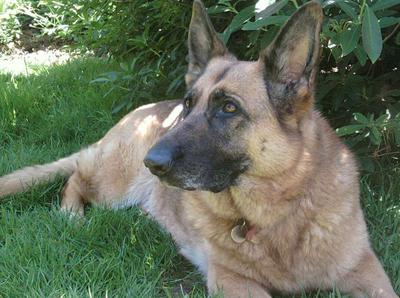 On the 28th February 2015 we lost our beautiful, loyal, most trusting German Shepherd.


Sharna was only 2 months off 13 years of age. Until only last weekend she was still running around in the garden and the park with our rescue Beagle Teasle.
She has been in excellent health until mid January when she was diagnosed with kidney problems, but that still didn't stop her being so very active. Unfortunately she was struck down with Vestibular disease, (similar to a stroke), on the 23rd February and although she returned home from the vets, she never recovered. Try as we might we helped her by assisting her outside to the toilet and literally being a physical support. Hand feeding her in her bed and bringing the water bowl to her, to lap from. All week she was watching me constantly from her bed, wherever I wandered in our kitchen, although unfortunately unable to walk, her constant attention was still on me and my family. Always thinking of us and her duty as she always saw it and never herself.
All week I slept downstairs on the sofa, in our kitchen, whilst she was in her bed, so that I was there if she needed to get up in the night to go out. On the very last night I set up a bed next to her bed and was constantly stroking her head to try and reassure her through the night.
She doted on our son Oliver 12, who grew up with Sharna from the beginning and he is heart broken at the loss of our Baby Girl.
We had Sharna from a puppy and have had 13 long and fab years with our Baby Girl. I miss her dreadfully as she has been here for such a long time. Spring will be here soon and I am a Horticulturist so enjoy being in my own garden especially, but I don't know if it will ever be the same now as my special friend will not be there, constantly bringing me the ball or ring to throw. Then we move on to water....... well didn't she just love it! We are so very lucky as where we live there is a large stream in our local park that is only 5 minutes walk away, so as you can imagine she couldn't wait to jump in! Then there was her teddy which she loved to suck on and kneed.
Our Beauty is buried in our garden..... She is now in Rainbow Bridge with my Dad, who no doubt will be taking good care of her, until I see her again.
I very often used to say to her 'She is beauty on the inside as well as on the outside'
Sweet dreams Baby Girl
P.S. Any one who has ever owned a German Shepherd will be able to associate with a lot of what I have mentioned, I feel very privileged indeed to have been part of Sharna's life