Sheeba, the White German Shepherd
by azam saddique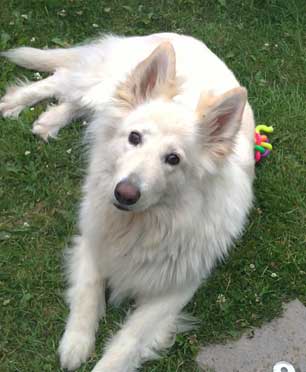 This is Sheba she is my white german shepherd, she is nearly 6 years old. She is absolutly the worlds most friendliest dog ever! she loves to pose for pictures! LOL!
She is a very dedicated to me and my family and always loves a good belly rub, whenever she thinks she has done something good she is already lying down on the floor on her back!
Sheba loves to play and go for walks. I took her to the park and there was a lake there and she took a giant leap into into it and started to investigate but she never left my side. As soon as she saw me move a little step she would run after me. Bless her!
She is an absolute star off the leash. She is a really really special dog we never taught her anything since she was a pup but still she knows many tricks. Like whenever my mum is cooking she will start playing with her toys and whining because she knows my mum will give her some meat!
I hope you chose her for the GSD of the month, she is really worth it! Thank you