Sky the White German Shepherd rescue is almost 2 yrs old
by Debbie McCoy
(Maple Valley,Wa)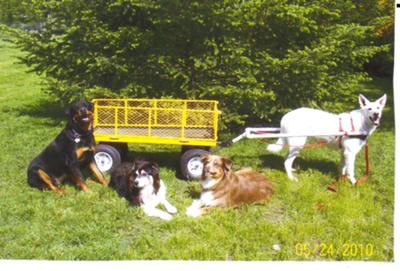 me @ 1yr. 11months
Found starved and living in a bedroom with 3 large grown dogs, and for the first 13 weeks of life lived on garbage and dirty baby diapers.
Rescued and have become the beautiful dog my rescuers saw in that scrawny, skinny starved rat of a puppy I was.
Now at 1yr. 11 months I'm enjoying my other brothers and learning to pull a wagon for the kids.
Life is Good.....Sky
Total German Shepherd
:
Thanks for keeping us up on your new life, Sky. We appreciate the pictures and you checking in ever so often and letting us know what you're up too.