Spanish Dog Names for Our German Shepherds
by Renee Solorio
(Idaho Falls, Idaho)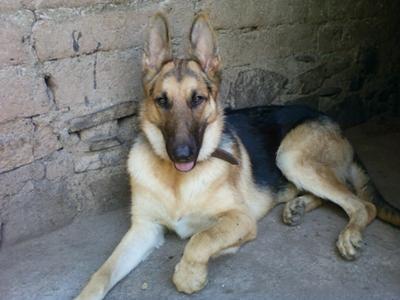 We found our GSD in Mexico with an injured foot. She was nearly starved to death and barely over 40 pounds. We nursed her back to health but were unable to repair her foot as the tendons which had been broken from her shoulder on down through her toes had shrunk.


We named her Estrella, but as time passed, Loca seemed to fit her better. She is now known as Estrella Loca -- recently adding Chorizo to the end of her name as she has gained some weight as she reaches old age. Estrella Loca Chorizo and she responds to all three names.
Estrella is a reddish gold color and we have been told that she could be what is called a Red GSD from Mexico. She had obviously been through some training, as the sport of Schutzhud is very popular in Mexico.
Estrella knows Buscar (search), attack, and every other command we used with her. She has protected us throughout our travels in Mexico and we are sad that she entering her elderly years. Estrella had been bred before, but we chose not to breed her for three years. Last year we bred her to a mostly black GSD and Zorro was the one puppy which we kept from that litter.
Zorro quickly became the runt of the litter after a skunk attack left him with an abcessed hip. He was hand raised inside the house and he helped us sell the other 7 puppies, as everyone wanted to buy Zorro. Puppy names included: Rambo, Shadow, Reynoso, Montana, Dakota, Danza, & Loba. In Spanish, names ending in O are male and in A for female.
Zorro is our pride and joy and we get endless compliments on him. He is 1yr 4mos and about 65lbs. We received many offers to sell Zorro, as high as $1200, but he is our baby, so, we couldn't sell him. I tell my husband that we can't get divorced because we could never decide who would get Zorro.
Your website is wonderful and I check it every time an issue comes up with our dogs (today for hip arthritis in older dogs). Thank you for the good work!