Stanley McCarty
by Ronald McCarty
(Hartly Delaware 19953 USA)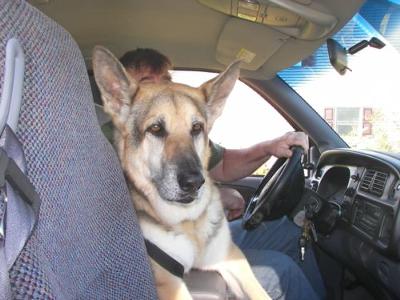 Stanley was a RESCUE of abuse. For 10 years he was my partner & my best friend. On 01-19-2009 he was killed.
Stanley will remain as part of me. His Spirit lives with in me.
He lived up to the title-GERMAN SHEPHERD. Closer to a wolf when he was mad and as passionate and loving when he was happy.
For 10 years we were one and for eternity we will be one. Stanley now joins Molley (GSD) and PRINCESS (GSD) in where else----HEAVEN. Pepper (LAB) and POOH (Cat) also reside in Heaven.
Stanleys big brother ( Morphy hasn't walked since January but is doing well other wise)MORPHIUS (GSD-13), SAUSHA von BULSON (GSD-9), Jake (GSD-3), ROSEY ( European GSD-6) and Pepper (LAB-13)all live at home. None of my dogs has ever seen a dog box since they moved in with us.
Stanley loved his Soccer ball, Princess, Sausha and Pepperj. He and Morphy used to argue all the time.
Stanley, I love you buddy--DAD
Total German Shepherd
:
Dear Ronald, thank you so much for taking the time to share your wonderful story about your German Shepherd Stanley, with us here at Total German Shepherd. Let me say right up front that I am so very sorry for your loss - it is a shame you didn't get the chance to have more time together with Stanley. What a wonderful German Shepherd he was.
And I'd like to take the time to say thanks to all our visitors for reading along with us. If you get the chance, please come back often to see what else is going on in our developing German Shepherd Dog neighborhood. BTW, please tell us also precisely what you think about the above narrative by leaving some intriguing feedback below.