Suitable food for a 10 month old german shepherd
by Tamara & Al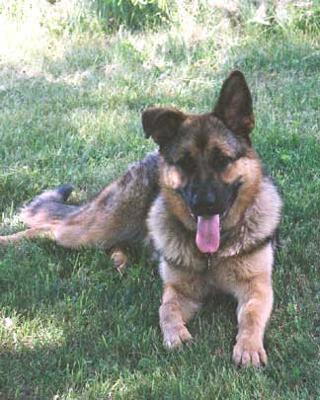 could you please recommend a suitable food for a 10 month old german shepherd i have just bought
he has a few problems bot feel if i can sort a good food out it might help. thank you
Total German Shepherd:
There are many really good dog foods out there - unfortunately they don't advertise as much as some other dog food companies do so you might not recognize the names of them right off.
One good suggestion is to try getting hold of as many puppy food sample bags of several different brands as you can that you might be interested in possibly switching your German Shepherd puppy to before you go through the process of buying an entire bag of food that your dog may not like - and then try them out with your German Shepherd Dog or puppy.
If you can get out on the weekends to any local pet stores like Petsmart or Petco you have a better chance to meet the product vendors there giving out dog food samples and also a better chance of asking them about their product.
One good rule is to look for dog foods with meat as the first item, with little to no grains and as few of those longer scientific looking words as possible. If you can't pronounce it, you don't want to eat it (or feed it to your GSD).
I would definitely encourage you to check out foods like
Solid Gold Wolf Cub Large Breed Puppy Food
and
Blue Buffalo Puppy
.