That's my Baby German Shepherd!!!!
by Barb
(Michigan)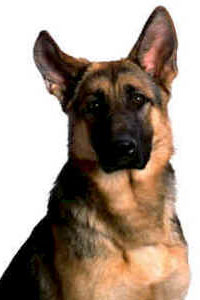 I lost a GSD eight years ago, to a neighbor giving him poison and I have been praying for another GSD, preferably long coated.
Well, I answered an ad for a GSD, and here was the story that I got:
She came from a home that had (19) GSD's in a mobile home, and she (Baby) was more than likely low on the totem pole, of pack order.
These people were feeding (19) GSD's one 20lb. bag of dog food, a week. They gave Baby to some other people "free", to their best friend.
The people that were given Baby also had a Pitt, enough said, as my mind was really doing a number, on me, and they wanted $150.00 for Baby!
I did not know what to expect, basically a total disaster, when Baby got to me. I was excited with anticipation, at 6AM, and as I opened the door, I saw a beautiful long coated GSD, deep red coat, lighter face with innocence expression, with a black saddle, very nervous, and intimidated, to the max.
I choked up, and knew when I saw her eyes that she was my "Diamond in the Ruff", at the present. She was looking at me, as to say: "Get me out of here, and away from these people." I really need to be taken care of, and most of all loved!
I guided Baby to her crate, expressed my gratitude to the people, and excused them from my home, quickly. I then sat beside Baby crying and letting her smell my scent, as I stated that she would have a forever home, and that she was now safe, warm, secure.
No word was given when I asked about immunizations earlier, and as a retired Nurse, I give my own shots, except Rabies, per state law. I then let Baby rest with slowly feeding her properly, establishing her trust with humans, again. (I was told that she was afraid of men with beards.)
With time, I have been able to get her trust, groom her gradually with loving care. It's just great to see her become herself with re-established confidence, and when it's time to work or protect, my best friend is there, and she really is my prayer answered….My Diamond Baby!!