The "Furball Pileup"
by Kimberly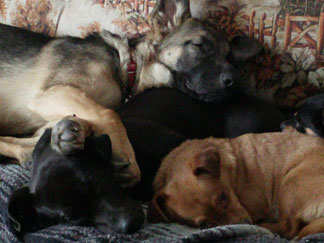 Hello,
This is our late German Shepherd puppy, Sadie, with the rest of our dog family. I call this the "Furball Pileup".
I captured the photo after they all decided to take a nap on the love seat together and thought it was very cute.
Clockwise: Sadie Marie, GSD, six months old, sadly passed away at ten months old from hereditary liver failure; Tequilla, Chihuahua, four years old; Da Boyz, Chiwiener, nine years old; Mayhem, Pitt Bull mix, four years old.
Kimberly Baker
Total German Shepherd
:
Dear Kimberly, thank you so much for taking the time to share your wonderful story about your German Shepherd Sadie, with us here at Total German Shepherd. Let me say right up front that I am so very sorry for your loss - it is a shame you didn't get the chance to have more time together with your GSD Sadie. What a wonderul German Shepherd your Sadie was. And I know she will be missed by your entire family and everyone who knew her.
And I'd like to take the time to say thanks to all our visitors for reading along with us. If you get the chance, please come back often to see what else is going on in our developing German Shepherd Dog neighborhood. BTW, please tell us also precisely what you think about the above narrative by leaving some intriguing feedback below.
So now it's all up to you. Share with us as you'd like, read the stories of others, watch a few German Shepherd videos and see what experiences others have had with their own GSDs. Thanks for visiting us here at Total German Shepherd.