The guardian within my German Shepherd
by Ashley
(CA)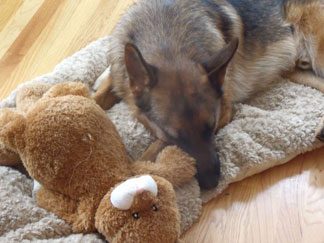 I've grown up with shepherds and have raised a few myself. I currently have a relatively sensitive pup whom I have been doing some confidence building exercises to help her find that german shepherd confidence we all know and love.
she seems to be doing better, but my last pup and many before her were barking already at strangers who came to the door as well as strange dogs who passed by
as early as 5 mos, and even 1 other sensitive one i have helped
.
the pup i have now is about 7 mos and still doesnt bark at strange people or dogs going by. while she is a sweetheart, will her guardian shepherd instincts kick in later or will she just be the sweethart shepherd.
dont get me wrong, im glad she is not overly aggressive, Im just concerned that she is not going to be very good at what her breed is intended for, moderately guarding the house.
Total German Shepherd
:
Since your baby is still so young I really wouldn't be too concerned about that at this time.
Just keep
socializing your German Shepherd puppy
as much as you can - the more comfortable she gets around "strange" objects and people the better off she'll be and the more confident she'll be as an adult.
Keep working with your German Shepherd, do as much training as you can, bond with your dog in every way possible and I'm sure your dog will help you if you ever need it in the future. Good luck and have fun!