The Story of German Shepherd Echo
by Nick Rezac
(USA)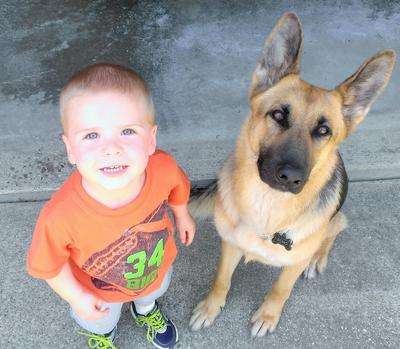 What a pair of awesome buddies
This is Echo with her human buddy Alex. Echo is a 2 year old German Shepherd that we rescued from Teddy's Rescue in Findlay, Ohio in March of this year.


They both turned 2 years old on 7/9. Alex for sure, Echo was given the honorary birthday of 7/9 because my Mother, Alex, and I all were all born on 7/9 (very weird coincidence). We know her birthday should be around July since the rescue told us she was approximately 20 months old in March when we rescued her.
The only information we had on her old life was that her and another yellow lab survived a house fire. Echo (formerly Kali at the rescue) escaped unharmed and the golden retriever was burned on the head and body, but survived.
Her old life parent / parents, did not want to look for a house or apartment that would allow dogs, so they surrendered them to the rescue. She is a great dog, and I can't imagine why someone would surrender her. However, I am glad they did so we were able adopt her.
She did however need training to hone out some of her bad habits, but she learned very quickly. I don't think the old owner/s were GSD experienced and allowed some of the bad habits to develop and flourish.
Nick Rezac