There will never be another German Shepherd like Niko
by Donna Musselman
(Allentown, PA )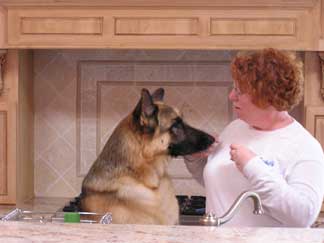 This is my boy, Niko, & me. Niko is 6 years old. He is my shadow & I am his human. Niko & I do obedience, agility, & tracking.
There are times he seems so intelligent as to be scary. Some time ago he was roaming around the family room; I knew he was looking for his stuffed ball. I didn't see it & said, "I don't know what you did with the round thing." I didn't say ball because he knows that word & would have begun whining. And I had never used that phrase with him before.
With that he runs to the door of the closet where his food & treats are stored. Thinking he wanted a treat, I walked over & opened the closet door. There on the floor of the closet was his "round thing!" It was that day when I realized just how smart this dog was.
He is a true German Shepherd dog. He is very friendly. However, once he meets you, he walks away. If he really knows you, he is your friend & protector, for life. He is a mother hen to our 2 ½ year-old granddaughter, even though this has been his 1st experience with an infant, & now toddler.
He is energetic, intense, driven to please. If I am home alone, he is rarely far from my side, always watching to see what I am doing or where I am going.
Niko is not our 1st dog. He isn't even our 1st German Shepherd. He is however, one of a kind. There will never be another Niko. And this is definitely one human who hopes she is the human her dog thinks she is!
Donna Musselman