Things We Learned from our German Shepherds
by Rick Bajackson
(Sparks, MD)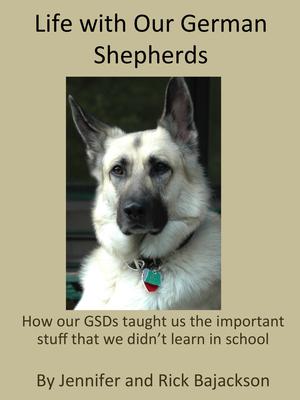 Hello.


I recently authored a book on German shepherds, Life with Our German Shepherds, relating information that they taught me. The book is around 145 pages and is available on Amazon and is an Ebook.
http://www.amazon.com/LIFE-OUR-GERMAN-SHEPHERDS-important-ebook/dp/B00KKB5HBG/ref=sr_1_1?s=digital-text&ie=UTF8&qid=1403909534&sr=1-1
All of the author's proceeds will be donated to various GSD rescues. I am literally not taking one cent from authoring this book. I believe that getting this information into the hands of GSD owners will be my pay back.
I am scheduled to donate $1000 to Training Rescue Dogs (
[email protected]
) for a rescued German shepherd (Blue) next week and have donated $400 to a local GSD rescue.
With regard to Training Rescue Dogs, this amount will be the balance of the training expense for Blue. Any additional sales of the book will accrue to similar organizations.
Here's the synopsis which appears on Amazon.
"LIFE WITH OUR GERMAN SHEPHERDS: How our GSDs taught us the important stuff that we didn't learn in school
The authors have written this book in order to pass along their important, and sometimes life-saving lessons they have learned with their own German shepherds.
If you have a German shepherd, have given serious consideration to acquiring one of these fine dogs, or are a German shepherd fan, the sometimes difficult "lessons" in LIFE WITH OUR GERMAN SHEPHERDS are an absolute necessity. More's the case if you are thinking about adding a German shepherd to your family.
Issues like feeding a raw food diet, knowing and recognizing what constitutes an emergency medical situation, where to get your shepherd, methods of training your dog, what to expect from your veterinarian, when to resort to the ER Veterinary hospital, the numerous benefits of swimming your dog, and many other topics are addressed in this book.
In addition, this book will talk about:
1. Why you shouldn't have your German shepherd protection trained
2. The importance of matching your temperament with your dog's
3. How to correct your German shepherd and how not to
4. Dealing with your local German shepherd rescue
5. Training: our experiences both good and bad
6. "Test Drive"/fostering the rescue German shepherd
7. Choosing your veterinarian if you don't have one: the important stuff
8. What's an emergency (our list of what is)
9. How to recognize bloat
10. Reasons you should swim your dog
11. Feeding your dog a raw diet versus a commercial dog food
12. Why you should "socialize" your dog with people and other dogs
13. What you need to watch for when your dog has been placed on a new drug
We believe that our "dog house" wasn't right unless we had at least one German shepherd living with us. So this book spans a good fifty years of experience with our dogs.
I've been planning this book for several years and hope that the German shepherd owners who read it, and anyone planning on getting a GSD, will gain from reading our experiences with: Ping, Rex, Prince, Pasha, King, Shalimar, Kelsie, Raisyn, Sarek, Graeson, Berin, as well as the foster dogs that we've given a "temporary home" to while they find their "forever home".
In these dogs' memory, we're going to donate all of our net proceeds from the sales of this book (all of the royalties that the authors receive from Amazon) to the various German shepherd rescues and other organizations that provide research on diseases common to the German shepherd breed such as Degenerative Myelopathy."
If you care to advertise Life with Our German Shepherds, please do so.