This is 'Girl', our Chopper's daughter, she is now 6mos old....
by helene
(monterey park ca usa)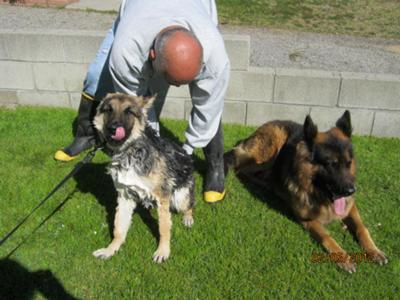 Girl drives her daddy crazy!!!! We mated Chopper with a short-haired tan/black GSD; there were originally 8 pups, unfortunately, 4 went over the rainbow bridge...


This is our 3rd GSD--they are absolutely the BEST dogs to share your life with!!!
Total German Shepherd
:
Hey Helene,
Thanks for sharing your German Shepherd pups story with us here now. I absolutely love the picture where she is getting the bath - she looks a little unsure of herself but it is such a cute moment in time.
The pictures are really great too. I'll bet she's a handful too. Enjoy your dogs - they are wonderful companions and I could never want a better friend - how about you?!