This is My AKC, UKC, Male GSD, Alpha!
by vickie duet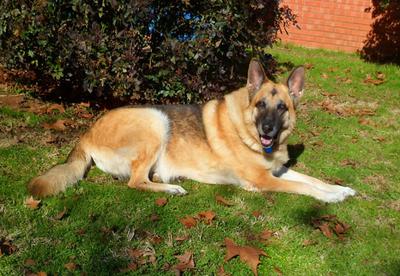 what a handsome German Shepherd
"Alpha" is his name.


D.O.B.: 12/18/2003
Owner/trainers: Vickie Duet and son Andrew Duet & as a pup with: German Shepherd Club in Louisiana!
Alphas address: Bossier City, La
Favorite things to do: Getting pictures taken, playing "search and find", playing lacrosse with Andrew, howling along with wolf howling cd and when mom says "sing with mom"! Alpha is at howling! Ohhhhhh Riding in the car is tops!
Top job: Guarding and companion to mom!
Total German Shepherd
:
Hey Vickie,
Alpha is certainly one handsome looking German Shepherd! And he looks so good for his age. Thanks so much for taking the time to share him with us. I love his color and that smile - what a sweet boy!
And from what you've already told us about him he sounds like a fun guy to be around too :) I just wonder what your neighbors think when your whole family is howling along with him - too cute!
Continued success with him and if you have the opportunity in the future please send us some more pictures of him. We'd love to see your handsome German Shepherd Alpha any time :)