This is my White GSD Brooklyn
by Terri
(Cleveland, OH)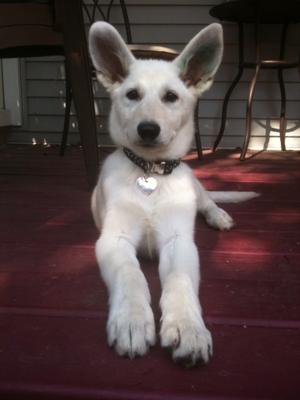 Brooklyn is 12 weeks in this picture. She was born Aug. 1, 2010 and is now 5 1/2 months old.
She is so protective and loyal and loving. She also loves her sister cat Bailey.
I am having a bit of trouble as she is too protective, and she thinks that anyone approaching me is a threat. We will need to work on that.
She goes to Doggie Day Care during the week while I'm at work, and really loves it! She is tuckered out when I pick her up, from so much running and playing all day. And she's very friendly with all the other dogs at daycare too.
I love her so much and cannot imagine my life without her. :)