This is Rico....
by Lindsey Rolland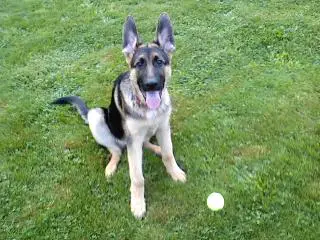 This is Rico....
Rico is 4 months old....
He comes from a strong and interesting blood line, his mother is a Philadelphia K-9 while his father is a 4 time first place Seiger champion.
After Rico is trained for basic obedience, he is going to be trained for search and rescue; as of right now there are no search and rescue dogs in the county in which we live in (Carbon) and possibly trained in Schutzhund; both parents are level 3!
Right now Rico enjoys playing with his human brother Jacob (4 yrs), both are a handful, as they are just as equally curious in new and different things...

Join in and write your own page! It's easy to do. How? Simply click here to return to GSD Stories.
Sign up for promotions, news, discounts, and the chance to win prizes for you and your German Shepherd