This is SGT Archie - OUR GSD Therapy Dog
by Amy O'Connor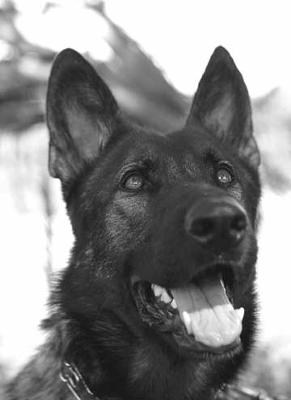 Hi,


I have enjoyed Total GSD and am grateful for the newsletters! This is SGT Archie.
I included the article from his arrival at the Walter Reed National Military Hospital. We were not expecting a GSD as a therapy dog.
He is now 2 1/2 years old and was promoted from CPL to SGT on March 2nd here at the hospital by our Marines!
Very respectfully,
Amy O'Connor
Total German Shepherd
: Thanks Amy, we all really appreciate you sharing the story of Archie, and Laura Lee and all the wonderful work that they do.
And here's the article that Amy mentioned above, just below for all of you to read too. Enjoy!
By Sarah Fortney,
Naval Medical Center Public Affairs BETHESDA, Md. (NNS)
National Naval Medical Center (NNMC) welcomed a new therapy dog June 4. Archie, a 15-month-old German shepherd, will work alongside the hospital's current therapy dog, Laura Lee, to lend a paw wherever and whenever needed.
Already nicknamed Cpl. Archie, he was brought to NNMC by Paws for Patriots, a program developed by Southeastern Guide Dogs in 2006, said Michelle Dumas, a kennel manager for Southeastern Guide Dogs.
The program trains dogs to work with service members recovering from injuries. Southeastern Guide Dogs breeds its own dogs, said Dumas. When they're 8 weeks old, they are placed with a volunteer "puppy raiser" who teaches them basic obedience and socialization until they're about 14 months old.
They then return to the Southeastern Guide Dogs for four to six months of formal training. During this time, trainers determine what type of "career" they will have as a guide dog based on their temperament, be it working with police, firefighters, the blind, veterans or otherwise.
"Our goal is for all of our dogs to have a career," said Dumas.
Therapy dogs, such as Archie and Laura Lee, seem to be able to sense when a person is grieving, she added. Their presence alone can be uplifting.
"A person may be having a bad day, but for two seconds they see that dog, they smile, and what ever's bothering them stops," she said, "even if it's just for a moment."
Laura Lee, a golden
retriever who has worked at Bethesda for about two years, helped acclimate Archie to his new environment, giving him a tour and introducing him to patients and staff. Archie also had a chance to meet several Marines staying for long-term care in Mercy Hall.
"He was very well-received and he was receptive to them," said Kassie Claughton, recovery care coordinator who works in the Marine Corps Liaison Office at Bethesda.
"Pets, dogs especially, give you that unconditional love. You can just tell them anything." She added that many patients here have pets at home that they're missing and the dogs may help them feel more at home.
Having therapy dogs at the hospital allows the patients to feel like the dog is one of their own, said Patricia Barry, administrative assistant for the director of Surgical Services at Bethesda. She takes Laura Lee home with her each night, making sure she is well-rested and groomed.
"Laura Lee may go home with me, but she is their dog, she is the hospital's dog," she said.
Archie will live with Amy O'Connor, a counselor and special assistant in Bethesda's Health Care Resolutions. O'Connor said he already fits in with her family.
When asked why she wanted to take on such a commitment, she said it was because of the experience she had working as a counselor after Sept. 11. At that time, she stayed at a hotel near the Pentagon to counsel families being notified of their family members' whereabouts.
"There were doctors, counselors, generals and admirals disseminating news, and there were dogs
for those who were grieving
," she said.
She told herself that if ever she had the opportunity to have a job that involved working
with dogs, she would take it.
"It's unbelievable what this dog does," she said. "
Archie
is what Marines are: driven, motivated, eager to learn
and
intelligent."
The four-legged therapists will also help reduce stress for patients and console health care providers, said Barry.
"
The dogs are
staff therapy too," said Barry. "We really appreciate the organization and what they've done for these dogs, and
all that
we get out of it."
For more information about the Southeastern Guide Dogs, visit; www.guidedogs.org