Three year old GSD Ki
by Robin Harriman
(USA)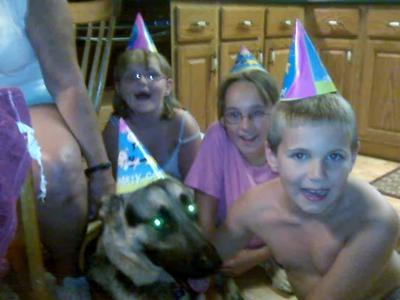 Happy Birthday, KI!
This is a pic of my three year old GSD Ki. Every year my three youngest grand kids give him a birthday party, complete with a cake they decorate and party hats.


They look forward to this "big event" every year. They get so much enjoyment out of it, not sure if Ki feels the same way. He endures the hat, etc, because I think he remembers that he gets a small piece of his cake with ice cream.
Love the news letter!
Robin Harriman
Total German Shepherd
:
Hey Robin,
I was so happy to see those birthday pictures of Ki! He must be quite the important family member to get such attention every birthday. He is one lucky German Shepherd for sure. And one patient one too ;)
It's nice to see that he and the kids all get along so well together. That is the true sign of one well adjusted GSD.
And Happy Barkday Ki, before I forget! I hope you have loads and loads more of them in the future! He's about the same age as my oldest GSD, Rodie.
They are great dogs aren't they? Thanks so much for sharing him with us all here. The picture is great! And so was the story. I wish you nothing but the best with him in the future!