To Der Stahl Baron von Liebhoffen RIP
by Carole Blanton
(Lumberton Texas USA)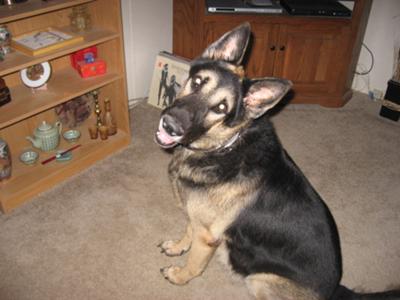 Cheez'n for the camera
Dear Baron,


We all miss you very much, it's been 8 months now and every day I look out in your back yard and see your grave and wish you were still with us.
Granny planted Forget Me Nots and since it was your Birthday "Patriot's Day 9.11.09 I put a flag on your grave. You were my Patriot.
You were the BEST GSD We've had. Sam misses you a lot, and Sean made your grave and did very well. Sam got you a stone and is drawing on it, you remember how well she draws. You're gonna love it.
You and I made a lot of road trips and you were the best on a trip; even if you did freak people out being so big in the Honda. LOL
You enjoyed Arkansas, Oklahoma and all over Texas many times and just traveling to the store late at nite to guard me. I would get a kick out of it when I could leave my car running with you in it and even with the police in town seeing you, you would raise heck if they came near us. And, going camping and walking and swimming in the creek you were always there to watch and take care.
You always alerted me way before anything or anyone could get near the house. My favorite, even though toughest memory was when you were 7 weeks old and you woke me up at dawn barking at my door.
I came out and you ran to the back door being very persistant about going out. And when we did go out you ran to the chicken coop and there were 3 dogs in it eating our chickens. You were so stoic and brave even at 7 weeks old. And what I had to do, you didn't shy away. You staid at my side.
That was the start of The Steel Baron...You were made of Steel. Nothing could scare you, unnerve you, but let someone get close to your pack of humans and you were on em in a flash. You were loving and kind to all your human friends and even a good canine citizen when others weren't.
I'm just glad you had the best weekend before you left us for good. Going fishing and going with Bret to the dock and helping him gather the bait, and cornering the crabs..even with their sharp claws you wouldn't let them get away. You did a lot that weekend and had a lot of fun running free, but never far away from site of us.
I hope my new GSD puppie, Remus will be a lot like you. He's got some big paws to fill.
They say "Dogs are man's best friend", well..you were my best friend, companion, travel buddy and all around the best dog I've ever had. I know no other will ever fill your place in my heart. I just wanted you to know that another will be here in your yard and not to be mad, but look over him like you did us for all those years.
We love you Der Stahl Baron...