Tucson is a German Shepherd Strongman
by Janyse Madsen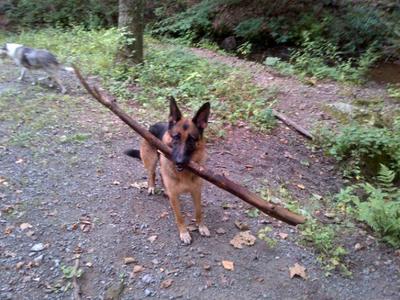 Tucson likes to carry 'sticks' on our weekend hikes. Sticks this size sometimes whack us in the legs, but his 'dog' friends have learned to duck when he runs by!!!


So full of life, he loves every living thing especially kids: he can lick their faces so easily!!!!!!!!!!!!
Janyse Madsen
Total German Shepherd
:
Hey Janyse,
What a great picture that is that you have sent in of your German Shepherd, Tucson! I love it. It reminds me so much of my matriarch GSD from years past, Cera.
She was never outside without something in her mouth and if we ever were in a wooded area she always managed to find the biggest downed branches on our walk and carry them about like they were twigs. Logs, branches, trees - you name it, she would carry it!
It's amazing how strong these dogs can be but on top of that, it takes a lot of precision and balance to manage these big sticks! It is definitely an inherent talent like catching a frisbee or a ball I think.
Anyway, you won't have an easy time misplacing him as long as he's carrying a log around will you? :) He is defintely all German Shepherd! And a keeper for sure! Continued success with your German Shepherd, Tucson! He's a great GSD!