Types of dog food for my German Shepherd puppy.
by Katie
(California)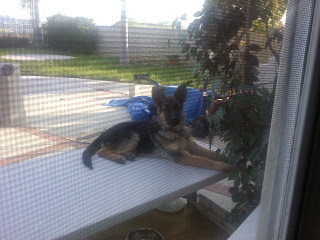 MY BEAUTIFUL GSD HARMONY
i have a 5 month old german shepherd - she is very picky when it comes to her food. i was just wondering what type of dog food is best for her since she is soooo picky.


Total German Shepherd
:
You might try getting hold of several different puppy food sample bags for different brands that you might be interested in possibly switching your German Shepherd to before you buy an entire bag.
There are a lot of different companies that do make the single serving bags sample bags that you can try out with your dog to see how interested in the food she may be before you make a big investment in it.
Weekends at pet stores like Petsmart and Petco always seem to have the product vendors there giving out samples so that may be a good day to go or just check with your local pet store and they may even have samples to try too.
I would definitely check out foods like
Solid Gold Wolf Cub Large Breed Puppy Food
,
Innova Puppy Food
, and
Blue Buffalo Puppy
to start.
Look for foods with meat as the first item, no grains and as few scientific looking words as possible as a general rule for the better dry dog foods and this should help you get started. Good luck with your finicky puppy.