Unwanted German Shepherd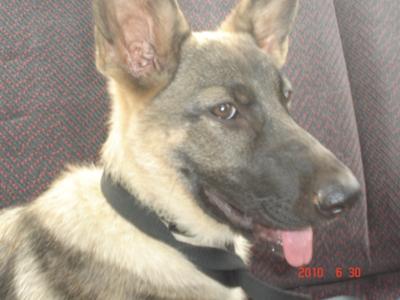 Hello, I would like to share a story of an UNWANTED German Shepherd puppy.


I am a proud owner of 2 GSD dogs whom I adopted through Humane Society 3 years ago (see their picture attached).
2 weeks ago I was in the front yard with my dogs when a van pulls up and drops off a skinny puppy, my dogs instantly on alert and it would have not been pretty if I was not in front with them. Driver of the van seeing that I was not running towards his drop off to save the puppy came out of the van and said: "I see you have German Shepherds and you seem to know how to handle them, do you want this one?"
I said "No" - two dogs, a husband, and a child, is more than enough on my plate not to mention full time job and sporting activities. "My next stop is dog shelter if you don't take her" came a reply...
I looked at the puppy, she had her ears already up and she had good eye contact although she was clearly scarred of me and 2 of my dogs looking down at her, I also noticed very dull fur color (sable), no shine and few bold spots visible ribs and a spine.
I had to say :" Fine, I will take her" I called few people who I thought would want a puppy, one even came out to look at her but all said no because of the condition the dog was in. Afraid I was going to get attached I frantically tried finding a home for the puppy, 2 days later she started getting along with my dogs, eating like a horse, and she was very attentive to a person who would be speaking at the time.
So 4 days later she became "Bailey" she also got a close inspection from me, she was infested with ticks and she had a bump in her hip which turned out to be a copper bee bee which was incrusted with fur, blood and skin... Bailey turned out to be one smart dog, she instantly knew to ask to go outside (2 weeks and no accidents in my kitchen is a GREAT sign for any puppy)
To my amazement it took me less than 10 min to teach her to sit to get a treat. About 1 day to get her to come to me when she is called (I think new name was the confusing part for her but now she clearly knows who Bailey is) and she will sit and wait for invite before walking through an open door whether it's in or out...
In 2 weeks this skinny, unwanted puppy stole our hearts and became priceless and most wanted dog.
Attached are pictures of my 2 dogs and sable puppy "Bailey".