Up date on my rescue GSD SKY
by Debbie McCoy
(Maple Valley,WA USA)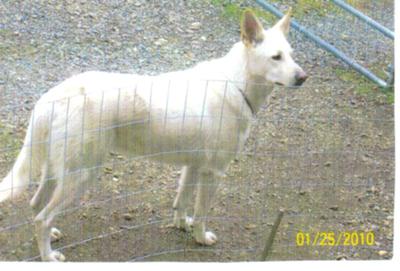 Me then @13wks & Now 1yr/8mons
Hey everybody. Please read on to find out a little more information about a rescued German Shepherd that we had been told about earlier - here is a bit of information that is new and an update on GSD Sky - enjoy reading.
===========
I was rescued @ 13weeks in very poor condition,starved,skin and bones. My family saw a beautiful,bold,& elegant dog through all my young uggly scraunny skin & bones.
It took alot to pull me through but they worked very hard and I have become all they saw and more. I'm now 1yr/8mon. and weigh 96#,and still growing. As I said then I am A keeper...
Total German Shepherd
:
Hey there, Debbie. Good to hear from you all the way over in WA. Thanks so much for taking the time to come here and share your white German Shepherd puppy story update with us all today. Love the picture - Sky looks soooooo happy!