Very hyper German Shepherd Dog
by Ashley
(Salt lake city, Utah usa)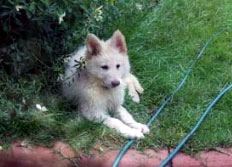 I have a white 7 month old german shepherd that I don't want to get fixed, but he get really hyper.
Any time we have visitors he freaks out. Running in circles and jumping. Barking Loud and obnoxiously. He can't even listen to me telling him no because he's so excited.
And this is with visitors we have over very often. Any advice?