Very Misbehaved German Shepherd Puppy
by Ileana
(New York)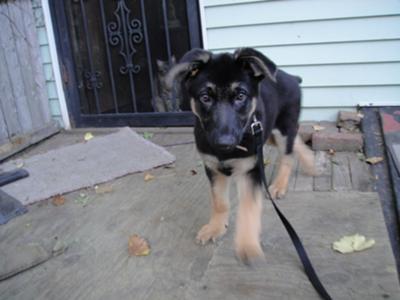 Rambo, running around
I have a German Shepherd puppy who is almost 3 1/2 months old. He is very bad when I'm walking him. He walks with his head down sniffing for anything that he can find to take in his mouth and probably swallow some of the things.


Therefore, walking him is quite a struggle. I try to hold the leash very short so that he won't be able to touch the ground with his mouth. But he is quite big for his age (weighing almost 30 pounds) and he pulls the leash very hard.
Also he wants to jump on all the people who are walking by. It is getting harder and harder to try to restrain him with the leash. He doesn't listen to NO either.
What should I do to stop this wild behavior. He is such a cute puppy but he is soooooooooooooooooooooo bad. What do you advise me to do?
Total German Shepherd
: Are you a first time dog owner? Just curious. Your
German Shepherd puppy
is not being bad when he's sniffing the ground - that's how dogs learn about what's happened there recently - think of it as a doggy "newspaper".
And remember - you have a German Shepherd puppy - a baby dog - and that's how your baby is going to learn - by using it's sense of smell.
Did you know that the sense of smell is a dog's most predominant sense? It's true! They use smell in much the same way we use sight - it's just that important to them. And a huge part of their brain is dedicated simply to this one sense.
So smelling is a very normal part of any dogs life so don't think the puppy is being bad for smelling it's surroundings - it's not being bad doing this any more so than you would be for looking at your own surroundings with your eyes.
And
German Shepherd puppies
carry things in their mouths - they don't have hands - and the world is new to them so many things will go in their mouths - again, this is a learning process plus the dog is learning all about things by their taste, smell, etc.
Just give the puppy plenty of his own toys to play with to fill it's need to teeth, carry, etc. Remember your puppy is just a baby and needs to learn and if you constantly take things away from it you're not teaching it anything - you're simply depriving it from important stimulation.
Concerning the jumping I would highly suggest that you both get into a puppy training class asap! It's great for the puppy and will teach you how to work with your dog and begin to think more like a dog so that you'll better understand your dog. Good luck with your GSD puppy.