Very Slow Growth in My German Shepherd Puppy
by DD
(Hudson Valley, NY)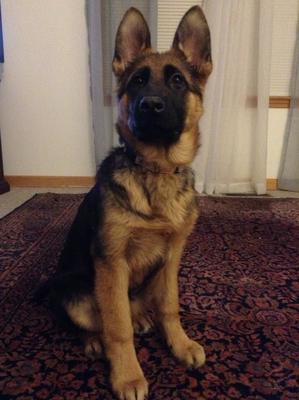 What a pretty female German Shepherd
I got my female puppy at three months old. She weighted then 10 lbs, and 5 days after getting her from the breeder, I found out she had giardia. I have fed her puppy food for "small and medium breed" dogs, in addition to giving her chondroitin supplements, salmon oil, and vitamins, specifically to prevent the growth problems that GS are prone to suffer.


She is now 22 weeks old, she is beautiful, and very proportionate, but she weights only 31 lbs. I am not sure if her slow growth has to do with the giardia, or her diet, or genetics... probably a combination of the above. However, now I am worried that her growth has been stunned during a time when puppies grow the most, and that she will not reach her normal full size.
I am petite too :-) but the price I paid the breeder for my puppy is what is paid for show dogs, and her size does not fit that category... not even close...
Total German Shepherd
: Hey DD,
This is one of the things I mention on the
German Shepherd growth chart
page, as long as she is happy, healthy, active and playful I would not be so concerned with her growth rate. I would encourage you to change her over to large breed puppy food as soon as you can though.
All dogs, like people, grow at different rates - some are large "Arnold" types while others are small to medium frames and builds. Sounds like your girl is going to be on the small end of the scale - however you never know.
Sometime there will be a growth spurt and the dog will make a sizeable jump in size over the course of a few months - so you never know. At any rate, you girl will continue to grow until she is about 2 to 3 years of age - so be patient. She still has a long way to go yet!
Enjoy her puppyhood while you can and don't stress over size averages. She is a unique individual and will grow at her own rate. Continued success with your new GSD puppy.