Walking My German Shepherd
by Shannen
(Essex)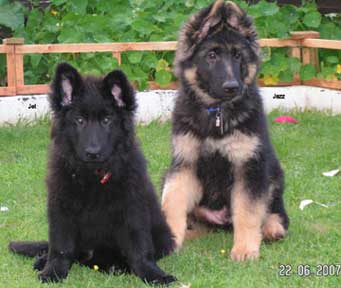 If i bring home a german shepherd puppy at 9 weeks old, ideally, how many walks a week should i be doing with it and for how long?


As it gets older do i need to walk it more? Many thanks
Total German Shepherd
: If by "walking" your German Shepherd puppy you mean exercise, you'll need to play with your puppy, as your schedule allows, several times a day for at least 5 to 10 minutes.
And if by "walking" your German Shepherd puppy you're talking about potty breaks you'll at least need to get that puppy out after each nap, after each meal and first thing in the morning and last thing at night. And any other time the puppy makes you think it needs to "go" too.
As the puppy matures the potty breaks will decrease to a point assuming the GSD is completely housetrained because the dog will be able to "hold it" longer - to a point.
And if you need help or some more
house training tips
please check out this wonderful dog training course.
And concerning exercise breaks, your German Shepherd will always love playing with you - plus you have the ultimate workout buddy right there always ready to join in for a jog, a game of fetch, a brisk walk, or maybe just a hike around your yard.
Enjoy your German Shepherd puppy - all the work you put into it as a young GSD will be repayed multiple times over as your dog matures.