We have a GSD male 7 months old how much exercise
by Mo
(England)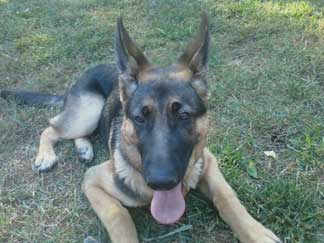 Our GSD puppy Max is a terror, he destroys everything in sight when we leave him, we have just invested in a crate for when we leave the house.


We were told that GSD do not need lots of exercise just half an hour a day would do as too much can damage there hips, this person was a breeder of GSDs.
Total German Shepherd
: First of all, think of the purpose these dogs were designed to do - work (they are a herding dog breed - how many herders do you know that are couch potatoes?)!
German Shepherds are working dogs and even more importantly they are very intelligent so when you combine the two you have a super smart dog that
needs a job
- therefore it is an active breed - and on top of it yours is a puppy so it will need additional time to play, learn and be trained by you!
I don't know what the person was thinking when they told you that GSDs don't need exercise because it is totally wrong. If you want an inactive dog breed check into something else. Older GSDs may need less exercise but puppies are very active as a general rule.
That is no where near enough exercise for a growing German Shepherd puppy - especially at that age. And as you can tell by his misbehavior he needs more exercise - lots more.
I wouldn't encourage jumping games since the bones and joints are still developing but I would suggest long walks (mix it up - walking various speeds and different ways), fetch, dog training exercises, hide and seek and other low key games to keep your puppy happy - all in a safe, enclosed area, BTW). In fact, here are some
fun and games ideas
to try with your GSD.
And keep in mind that
dog training
can be used as a form of exercise as well - especially
mental exercise
- which is very important for any smart breed of dog and the German Shepherd, generally speaking, is a super intelligent breed of dog. So mix it up - play with your pup and do
dog training
for short intervals too.
I have a new 5 month old German Shepherd puppy that I rescued about a month ago myself and right now we have about 4-6 play sessions a day for at least 20 minutes each outside - I would like a little more time but the weather has just been nasty overall so 20 - 25 minutes outside is about all I can stand at a time.
Anyway, we also play inside several times a day and do some training mixed in too and he still has quite a bit of energy if that tells you anything - so I could easily bump the time/sessions up a bit.
But when he does rest, which is often, he may sleep for an hour or so at a time and he sleeps the whole night through in his crate with no issues at all.
So, with that said, if I were you I would definitely add a lot more exercise/training sessions and I'm sure you will see changes in time in his destructive behavior. After all, a tired puppy is a happy puppy - and not one that is getting into trouble all the time.