Wembly, I'll never forget you, buddy: RIP
by Mark
(Carle Place, NY)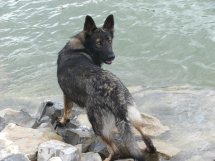 Gentle giant. Mans best friend. Fraggle Rock character??
Whenever folks asked me "what's his name?" and I'd reply, "Wembly" they'd almost always say "like the stadium?". "No," I'd say, "like the Fraggle".
Wembly was our 4th dog, second GSD to be named after a Fraggle Rock character. First came Mokey, then Gobo, then Red, then Wembly. Now that we're getting another GSD puppy (same breeder, Wembly's bloodline) the only Fraggle name left is Boober.
While I dwell on the new name for the next 6 weeks, I'm always thinking about my buddy, Wembly. FatBoy, Big Head and Wemster were all nicknames he responded to. But when I'd give him a "big-fat belly-rub" I always told him he was my buddy. We went everywhere together.
Most people were initially trepadacious when they saw this 125lb beast heading their way. But when they started petting him and he started licking their faces, they fell in love.
How could they not? Those big brown eyes? Peering into your soul? Wembly was truly an amazing dog. I hope he's having fun with Gobo, Mokey and Red at the Bridge. I can't wait to see them all come running to me someday.
Until then, Rest In Peace, Buddy
Dad
Total German Shepherd
:
Dear Mark, thank you so much for taking the time to share your wonderful story about your great German Shepherd Wembly (I love the name), with us here at Total German Shepherd.
Let me say right up front that I am so very sorry for your loss - it is a shame you didn't get the chance to have more time together with Wembly. What a wonderul German Shepherd he was and I know that he is missed.