What is the best food to feed a German Shepherd
by Paulette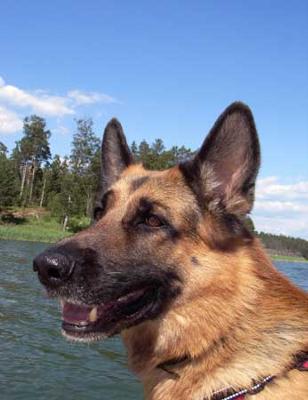 I have read and read on what is the best food to feed a German Shepherd Dog or puppy. Raw diets, Blue Buffalo, etc...


I would appreciate what dry dog food is the best to feed my three German Shepherd Dogs. Totally confused. One says this one and then another.
Please advise.
Total German Shepherd
:
Boy, talk about a potentially controversial question. Well I can tell you from experience that if you were to ask 10 different people the same question you'd probably get at least 7 different answers.
Many people are brand loyal. Then there are economic reasons because some brands are quite pricey. So, with that being said I can tell you that you want to choose the best dog food that you can afford - that your dog enjoys and does well on.
It doesn't matter if you can afford the $50+ premium bags of dog food, or only the cheaper dog foods, if it makes your dog have diahrrea, your dog is allergic to it or if your dog simply won't eat it then it is not a good choice for your GSD.
Big tip:
if any of the first 3 ingredients are grains of some type, or something that you can't even say out loud without difficulty then keep looking - dogs are meat eaters not field grazers.
By the same token, if you can only afford the cheaper grocery store brands then you do the best with what you can. That's just the way that it is but I would suggest some supplements if this were your only choice to help your dog get the most nutrition possible from it's food.
But if you really want to feed your German Shepherd the best possible commercial dog food out there here are a few to brands to choose from that are truly some of the "best of the best" in the dog food world with direct links to many of them so that you can read even more and compare for yourself.
Solid Gold
Innova EVO
Orijen
Canidae
Read here to learn even more about
Feeding German Shepherds
.
Good luck in your research and future decision!