What should I feed my 1 year 6 months old german shepherd?
by Aman
(India)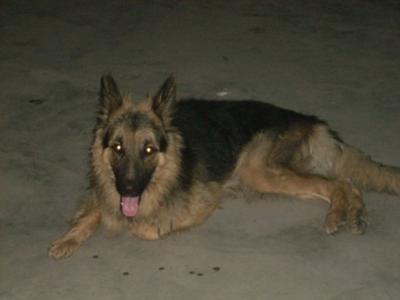 Tyson My boy
1.What should I feed my 1 year 6 months old german shepherd?


2.My GSD is double coat so his hairs fall every day how can i take care of his fir and in how much time period bath should be given?
Total German Shepherd
:
Man, what about a potentially controversial question you've asked. I get asked this a lot and I'll bet that if you were to ask 10 different people the same question you'd probably get at least 8 different answers.
Why? Well there are just so many choices out there and manufacturers aren't always the most honest in giving you the best info up front to make things easier.
As with a lot of other things many people are loyal to brands while some are more willing to experiment. Especially now economic reasons lead a lot of people to buy the cheaper foods which are usually quite bad because most premium brands are quite pricey.
So, my first advice to you would be that you choose the best dog food that you can afford on your budget and one that your dog enjoys and does well on - nice coat, overall good health, no diarrhea, firm poops, etc.
Great big tip:
when you're shopping for new food choices for your dog if any of the first 3 ingredients are grains or something that isn't natural then keep looking.
I assume you want to continue using commercially made foods and that you really want to feed your GSD puppy the best dog food out there I'll list a few to brands to choose from that are truly some of the "best of the best" in the dog world of commercial dog food.
I'll even provide direct links to most of them so that you can visit, read and compare them all for yourself. So here's a few to check out.......
High Quality Brands Suitable For German Shepherds: