What type of toys do I need to get for my first German Shepherd puppy?
by taylor
(murfreesboro)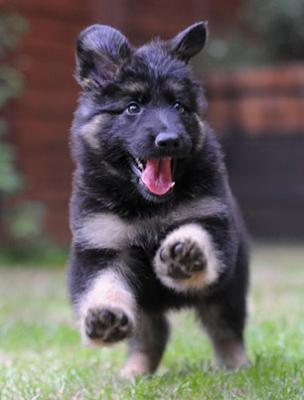 what name brand of toys are the best for my first german shepherd puppy and do i need to buy it clothes?
Total German Shepherd
:
I wouldn't worry too much about clothes - unless you're talking about collars and leashes and the like. And in that case I would suggest a nice adjustable, quick release Dog Collars. They are pretty sturdy plus they adjust over the life of the puppy so that one collar can last for many months - not just a few weeks.
And as far as toys go, I would get plenty of things that your puppy can chew on - that are well made and sturdy. Immediately that makes me think about toys like the Kong Wubba, Kong Genius Interactive Dog Toys, Kong Xtreme, Kong Ballistic Ring Dog Toy, Kong Puppy Starter Kit, and the Puppy Kong Three Toy Combo Pack.
So there's a start for all kinds of long lived and tough puppy or dog toys. I would also suggest you keep plenty of chew toys around at all times to keep your puppy from chewing the wrong things.
Many dogs also love balls and the best ball toys I have ever found have always been jolly balls such as the Push-N-Play Jolly Ball, Jolly Pets Tug-n-Toss Ball - my GSD pups personal favorite, and you can also find the Jolly Pets Romp-n-Roll Ball too. Good luck with your new German Shepherd puppy - and have fun.